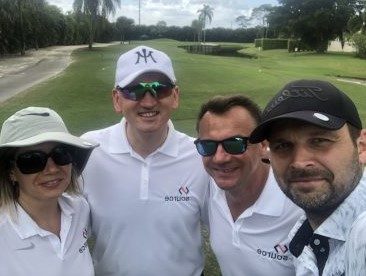 Source team takes part in the Polonia World Championship with great success
Source Corp specializes in delivering high-quality services, but our team is talented in more than one area.
Our golf team has recently qualified to take part in in the 19th edition of a renowned Polish golf tournament Polonia World Championship, in Florida, USA. That was the first time for the Source golf team to participate in such a professional tournament. The team included: Greg Okon, Mike Swiderski, and Pawel Okon.
The golfing contest attracted 140 players. One of our team members, Mike, managed to secure the 35th place. Other team members did well too: Pawel got the 104th place and Greg the 94th.
The Polonia World Championship is a contest that attracts professional-level players. The winner, Alek Mierzejewski, got an average of 77.3 gross in 3 rounds.
We want to thank everyone for supporting us during the contest! We look forward to taking part in the Polonia World Championship next year with even larger Source golf team!